Our organisation
We build long-term relationships
based on excellence, passion,
integrity and safety
Did you know
Ultranav Denmark is the
6th largest company in the
transport sector in Denmark
(Source: Borsen)
Ultrabulk is a leading global dry bulk operator, servicing its customers in their maritime transportation needs in the Panamax, Supramax, Handysize and Specialised Services segments.
Partnerships with close customers are the core of our business, and considerable effort is put into visualising and meeting their needs. Long-Term perspectives drive investments aimed at building personal relations and cooperation.
With an asset light business model and a strong focus on risk assessment, we are a safe choice for your maritime transportation needs.
Ultrabulk A/S is a subsidiary of Ultranav, a privately owned shipping company for over six decades, headquartered in Chile and operating globally with offices in 17 countries.
Thinking globally, acting locally
Ultrabulk is located in Gentofte, just outside Copenhagen, Denmark. Via the Ultranav Group, we have strong connections to South America and Chile in particular, but we also have a long tradition in Danish shipping with roots dating back to 1891 and "Rederiet Myren", which was originally part of the more commonly known East Asiatic Company (EAC/ØK).

Customers are served from eight offices strategically located around the world. The geographical spread of offices enables us to serve our partners in their own time zone in relation to Chartering as well as Operation. Each office is empowered with adequate authority to make the right business decisions in a quick and efficient manner.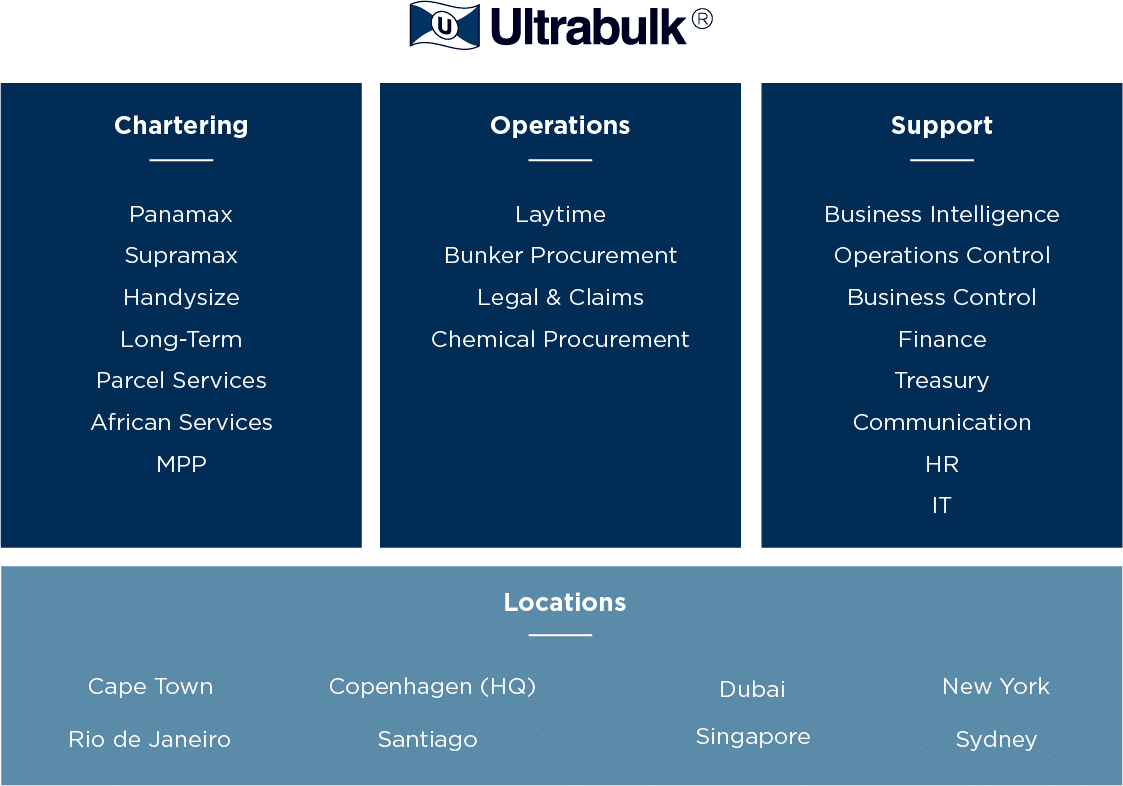 Our partnership philosophy is based on long-term relationships, combining cargo contracts and tonnage procurement into the vital core of the Ultrabulk business model. These long-term partnerships are the basis for a stable platform and sustainable future growth.
A designated operator with specialised commodity, regional and trade knowledge is allocated to each partner. This ensures a smooth dialogue and a constructive environment, where we understand and meet our partners' requirements and priorities at all times.
Ultrabulk is committed to continue reducing emissions and minimising our environmental footprint. One of the biggest climate challenges for the global shipping industry is the IMO target to reduce the overall greenhouse gas emissions (GHG) by at least 50% by 2050.
Risk management is an integrated part of the business platform. Focus is on strict counterpart control both prior to entering agreements and on a current basis. The control systems assist in relation to monitoring developments and ensuring risk is constrained at acceptable pre-defined levels, which are duly aligned with our strategy and commensurate with our financial strength.
Ultrabulk lives by a set of corporate values, guiding us in our way of doing business.
We always strive to be a partner you can trust. If you want to know more about the guidelines we live by, please see our General business principles.
Excellence
We seek to contribute to our customers' competitiveness by anticipating and meeting their needs.
We encourage creativity and innovation, introducing solutions that are beyond the ordinary.
We strive to continuously improve the quality and effectiveness of our services.
Passion
We are passionate about our work and our company.
We believe that personal commitment and work well done make a difference.
We challenge ourselves to create value and exceed our customers' expectations.
Integrity
We act in an ethical manner, focusing on sustainability and safeguarding our reputation.
We encourage personal and professional development and a fair balance between work and private life.
We promote team spirit in a multicultural environment, without discrimination of any kind.
Safety
We believe that safety is an integral part of our mindset and key to our business success.
We place safety first, keeping health, life, environment, cargoes and assets free of risks.
We are committed to developing and stimulating a safe working culture onboard ships and ashore.
Ultrabulk historical highlights
1982
Ultrabulk started its dry bulk activities in Chile in 1982 and was initially regionally focused on the Handysize segment.
2010
The company grew steadily and in 2010, the company entered the Supramax and Panamax segments via the acquisition of Eitzen Bulk A/S. This company had roots dating back to 1897 in the form of "Rederiet Myren", which was originally part of the more commonly known East Asiatic Company (EAC). This acquisition brought with it not only direct access to these two new market segments, but also new trading areas, a notable fleet and an impressive newbuilding programme, as well as an experienced commercial management and staff. A new broader and stronger trading platform was thereby established enabling the company to service client needs in all three market segments.
2013
Started Parcel operation introducing a range of specialised services, including MPP and Parcel Services to accommodate to customers' needs within the niche markets.
2017
Ultrabulk opened an office in Cape Town in 2017 to further support and service partners in the region, focusing on full cargo and parceling operations for bulk and breakbulk cargoes.
2018
An office in Sydney opened in 2018 as an extension of the Singapore office, focusing on the Far East market, in particular the Australian/New Zealand continent.
2022
Ultrabulk opens an office in Dubai enabling us to provide a better and more local service to customers in the Middle Eastern region.

Maritime Anti-Corruption Network
The Maritime Anti-Corruption Network (MACN) is a global business network working towards the vision of a maritime industry free of corruption that enables fair trade to the benefit of all.

Trace
TRACE is a non-profit business association providing anti-bribery compliance support and shared-cost third party risk management solution.

Getting to Zero Coalition
The Getting to Zero Coalition is committed to supporting the development of Zero Emission Vessels by 2030, whilst also pursuing a full decarbonisation of the industry by 2050.

BIMCO
BIMCO's goal is to secure a level playing field for the global shipping industry. BIMCO therefore works to promote and secure global standards and regulations for the maritime sector.

Baltic Exchange
The Baltic Exchange provides maritime market information for the trading and settlement of physical and derivative contracts.

Danish Shipping
Danish Shipping is a trade and employer organisation playing an active role in relation to the authorities and decision-makers nationally and internationally.