Ultrabulk is the dry bulk division of Ultranav Denmark, which also consists of our gas division Ultragas, our shipmanagement team UltraShip, and our support team in Ultranav Business Support. There are 175 employees in Ultranav Denmark, of which 130 are working from the office in Gentofte, just outside of Copenhagen.
According to Berlingske list 'Gold1000', Ultranav Denmark is among the 100 largest companies in Denmark based on annual turnover. And if you look at the transport sector alone, Ultranav Denmark is the 6th largest company in Denmark.
Ultrabulk has 7 offices strategically located all over the world and as part of the large and diversified shipping group Ultranav, we are able to offer our employees exciting opportunitnies in positions in different countries, in different business units and in different segments. The Ultranav group counts over 4,000 employees.
Via the Ultranav group we have strong connections to South America and Chile in particular, but we also have a long tradition in Danish shipping with roots dating back to 1897 and "Rederiet Myren", which was originally part of the more commonly known East Asiatic Company (EAC).
When you join us, you join a family
One of the most frequent observations from the candidates we meet at our interviews is this: A warm and welcoming atmosphere from the moment they step inside.
Every time we hear it, it exhilarates us – and in all modesty we think it captures the culture of Ultrabulk in a perfect way.
We like long and hearty laughs. We like to share stories. We like to celebrate. We believe that work should be fun and rewarding on a personal level.
Our mission to be "A partner you can trust" shines through in our way of being colleagues – by truly caring for one another and work together as a team to reach our goals for the business.
In our experience an organisation consisting of different cultures, genders and ages enriches the organisation and brings important benefits, including improvements in decision making, problem solving, productivity, innovation and atmosphere, and these will all help us in our constant strive to be a partner you can trust.
Offices in 7 countries
Ultrabulk is an international organisation with offices strategically located all over the world. We are therefore fluent in all time zones as well as MS Teams! Many of our employees have been posted in one of the locations for a period of time, and it is a central part of a traineeship to experience a stay abroad.
Many different nationalities
We are working actively towards creating a diverse and inclusive organisation. On a daily basis, this means that you can find yourself on a trip around the world just by taking a walk in the office. With different nationalities comes also different cultures and languages. At the headquarters in Denmark, Danish and
English are the most used, but you can also often hear Spanish, Thai, German, Philippine and Norwegian spoken around the office.
Each team member contributes to the diversity of the environment by bringing different cultures and languages into their daily work. Shipping is inherently multicultural and Ultrabaulk is no exception. This is one of the reasons why we excel at what we do.
The variations in national culture invites for interesting topics to be discussed, and we often learn new intriguing things about each other's cultures from our different home countries. And so our outlook and understanding of the world is broadened.
Age and experience
We see both ends of the spectrum; trainees and student assistants at the beginning of their career and employees about to reach retirement age. So it is safe to say that our range in both age and number of service years is significant, and we see this as a huge advantage for our business and our atmosphere.
The diversity in age and service years allows for a dynamic work environment where we combine the wonder and outside-in perspective you can have as either a younger person or a new employee with the professional insights and deep experience in a field that a more seasoned employee would possess. We are united in our values and great respect for each other's competencies.
Gender
The shipping industry has historically been a male-dominated world, but times are changing. The entire industry is working together to get more women to join the great life of shipping, and to support that goal, Ultrabulk committed to the Charter for More Women in Shipping, an initiative launched in 2020 by Danish Shipping. By signing the Charter, Ultrabulk has made a significant commitment towards a more gender balanced organisation and in shipping in general.
Ultrabulk staff in numbers
Josephine, Assistant Chartering Manager
at Ultrabulk
Josephine started in Ultrabulk in 2016 as a Student Assistant while she studied International Shipping & Trade at CBS. She enjoyed the opportunity to mix theory and practice and learn about the everyday in an international shipping company.
After two years, she was offered a full-time internship in the Operations department – and when she finished her studies she landed a job in Supramax chartering.
Josephine describes her experience at Ultrabulk:
"Ultrabulk is great organization for professional growth. I was given the opportunity to combine studies and work, and when I finished could step right into a full-time position and develop further. I love the atmosphere at the office; friendly, dynamic and fast-paced and a great team spirit among all my colleagues – and it's a great place to grow" 
She particularly enjoys the intercultural aspect of the job with a multitude of nationalities working together, the knowledge sharing in the office and the fact she learns something new every single day, which allows her to continue a steep learning curve both professionally and on a personal level.
Peter, Chartering Manager
at Ultragas
Peter started his employment with us straight out of school as a Trainee in Ultranav Business Support in 2016. Working within different units and departments has given him a greater understanding of the organisation and developed his professional skillset.
Alongside his employment, Peter is studying HD IB at Copenhagen Business School.
"My role is to find and negotiate employment for our handysize gas vessels. Whether it is a cargo that we transport from A to B or a time charter to one of our customers, we handle it in the Chartering Desk.
Although you may be part of a small department or section of the company, you are part of a huge group, which offers many opportunities for advancing your career in different segments.
I have always wanted to work in an international workplace, where part of my job is to deal with different nationalities every day. The traveling and the opportunities for a career abroad were also my personal choices for this career path."
Rasmus, Vessel Group Manager
at UltraShip
Rasmus started in 2019 and his key role is to support the vessels with technical trouble shooting and linking them with external companies when needed.
Rasmus is as Dual officer from SIMAC.
Rasmus serves as a daily part of the senior management team on the vessels, and he is motivated by being able to make a real change.
"Ultraship is still a fairly young company and I saw a big potential to be a part of a company that is now ready to take it to the next level.
I like to be in a company where the management support changes and where you are part of the decision making and empowered to make your own decisions and be heard. I really feel I have that in UltraShip."
Lucia, Business Controller
at Ultranav Business Support
Lucia has always been passionate about crunching numbers. She holds a Bachelor Degree in Economics as well as a Master Degree in Financial Management, both of which she took in Madrid, Spain where she is originally from.
Lucia started wokring with us in 2014, and when describing Ultranav the international environment stands out to Lucia. Being an expat from Spain, she enjoys the culture mix and atmosphere of our global organisation.
"I have always felt challenged, and with new responsibilities continuosly coming my way, I have always felt motivated through the years. But also the trust put on me was and still is a motivation that drives me every day.
I enjoy learning about new ways of working, the cultural differences, and continuously develop my skills. Every day I learn new things and become more flexible both personally and professionally."
Ultrabulk offices around the world
We are all part of the same Ultranav Family
Ultranav is a privately owned shipping company with offices in 15 countries. Through eleven business units, we operate in five market segments: Oil, gas, dry bulk, coastal trades, and towage & offshore. We operate a fleet of gas and chemical carriers, tankers for crude oil and clean petroleum products, bulk carriers, feeder container ships, multipurpose vessels, harbour tugs, PSVs, AHTS, pusher tugs, barges and pilot boats. Ultranav employs approx. 4,000 people, of which 3,200 are seafarers worldwide. Read more about the Ultranav Group
Ultranav Denmark is owned by Ultranav. Ultranav Denmark is the holding company of Ultrabulk, Ultragas (incl. its ship management company UltraShip) and Ultranav Business Support.
Ultrabulk is a drybulk operator, servicing customers within the Panamax, Supramax, Handysize, MPP and Parceling segments. Ultrabulk has 7 offices worldwide, operates a fleet of 130-175 vessels and employs approx. 100 employees. Read more about Ultrabulk
Ultragas is a gas owner and operator with a fleet of 18 LPG carriers. Commercial operation is handled jointly by Ultragas and Unigas International BV, an associated company which is owned equally by Ultragas and two partners. Ultragas employs approx. 10 commercial staff and has its own inhouse ship management unit, UltraShip. Read more about Ultragas
UltraShip is the technical ship management unit of Ultranav Denmark, operating the full Ultragas fleet of 18 gas carriers and 3 bulk vessels from Ultrabulk. UltraShip employs approx. 25 staff and also provides technical supervision, including newbuildings and projects, for Ultragas and affiliated companies within the Ultranav Group. Read more about UltraShip
Ultranav Business Support provides high quality support to the bulk and gas carrier operations in the areas of corporate finance, treasury, accounting, operations control, IT, laytime, business intelligence, communication and HR functions. Ultranav Business Supports employs approx. 35 employees. Read more about Ultranav Business Support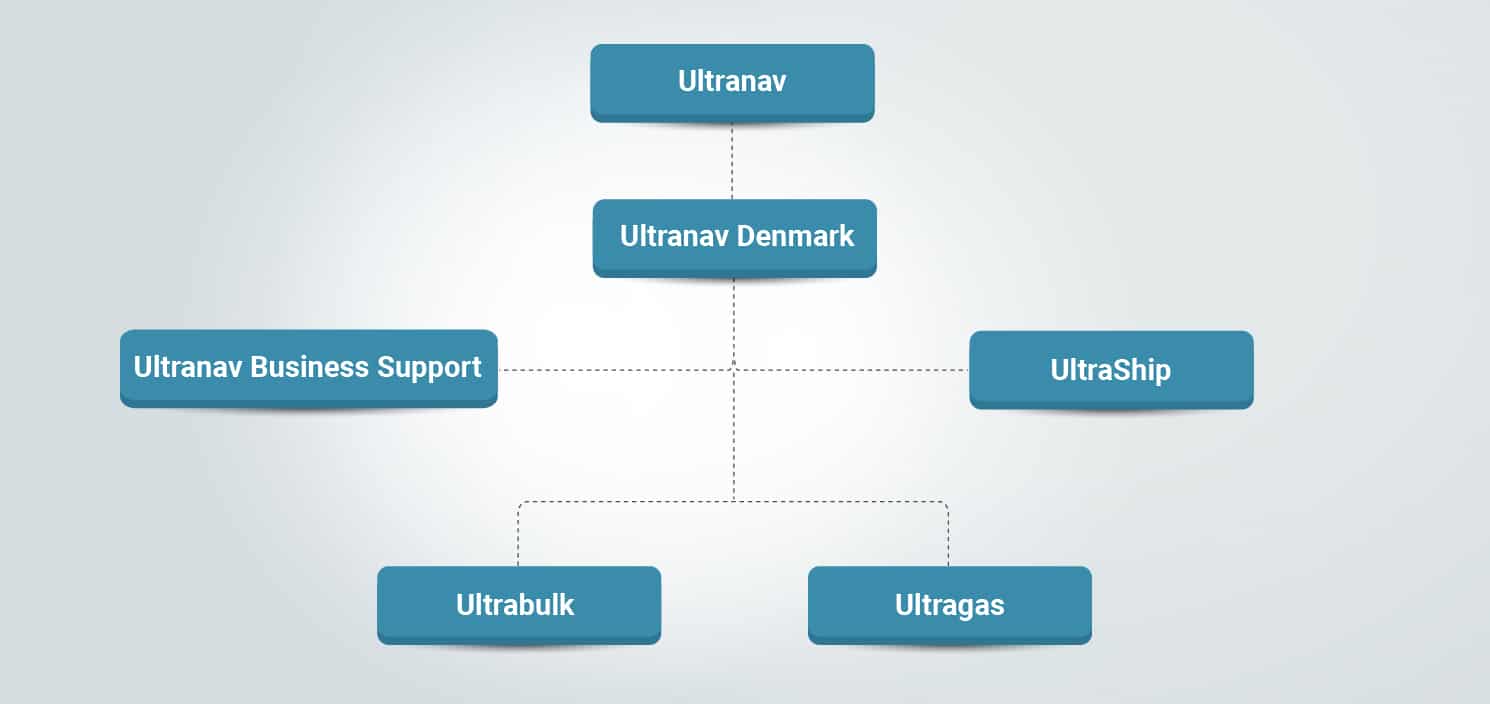 Ultranav – A partner you can trust 

Danish Shipping
Danish Shipping is a trade and employer organisation playing an active role in relation to the authorities and decision-makers nationally and internationally.

Charter for More Women in Shipping
Charter for More Women in Shipping is an initiative aimed at increasing the share of women in Danish shipping companies. The Charter urges companies to focus on gender equality.

WIS-Denmark
WIS is a worldwide network for women in the maritime industry aiming to empower women in the shipping industry and to achieve more diversity and equality in the industry.